SOUTHERN TILE & TERRAZZO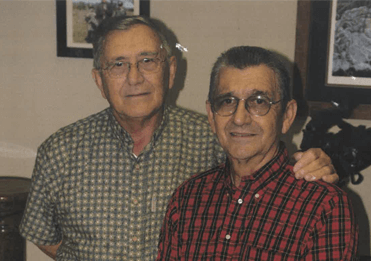 Founded on Family
Rooted in Italian craftsmanship and family tradition, Southern Tile & Terrazzo Co. has been creating award-winning flooring projects in the Houston area since 1956.
Founded by Mike Maraldo, the company became a family business when Frank Maraldo joined his brother, putting their artistic skill and North Italian heritage to work. Trained by Italian immigrants in the trade of their grandfathers, the Maraldo brothers perfected their craftsmanship, building a respected name for themselves in South Texas. In 1990, Mike passed the business on to his son, Michael, who continues to carry on the family legacy of terrazzo excellence.
Southern Tile & Terrazzo Co. takes great pride in the terrazzo tradition that quite literally runs in our veins. It is an honor to carry on the Maraldo family business and artistic vision.
Blood, Sweat & Terrazzo
When Michael first joined the company at age 16, he spent his first day in the field with his father pushing wheelbarrows full of marble chips up a two-story ramp. As the day wore on, Michael got blisters on his feet and others noticed his hands were raw and bleeding. Both father and son worked on, heads down and sweat dripping. "Leave him alone," Mike said of Michael, "he's learning the trade."
Southern Tile & Terrazzo Co. is proud to be a part of the following professional organizations:
Recent Awards & Recognition

6829 Lindbergh Street | Houston, Texas 77087 | 713.649.2434